All you need to know about our shipping process!
What is the cost for shipping?
Most of our products are shipped at a flat rate based on the order total. A few items, due to the size of the box required to ship them have a shipping price per item. Popular products not included in the flat rate price are 10 inch pots, wreaths and Christmas tree stands.
Flat Rate Shipping Rates
Order Total $0.00 - $74.99 shipping cost is $10.95 per order

Order Total $75.00 or more shipping is Free!
What do I do if there is an issue with my order?
Our shipping boxes have been custom designed for the safe transport of plants. You will not receive bare root plants but instead growing plants potted in soil ready to plant into your garden. We take great care in packing your plants so that they arrive in top condition.
If your plants are damaged upon arrival or do not meet your satisfaction, please contact us at support@romencegardens.com with photos within 24 hours of receiving your shipment.
Beginning in November/December pre-season order of plants will be available. You may place your order at this time and plants will begin shipping in April depending on your hardiness zone. You will be contacted via email letting you know the approximate shipping week for your order specifically. However, shipping is subject to weather conditions and maturity level of the plants at the time. We continue to ship through the summer and fall as long as the plants are available. We will not ship substitutions without prior approval from you.
Orders that do not contain plants will be sent out within a few business days after the order is placed.
How are the plants shipped?
Romence Gardens ships to the entire continental US via FedEx, USPS, and UPS. Plants may be shipped to arrive on weekends, please advise us if Saturday or Sunday delivery is not acceptable.

Please be aware that during much of pre-season ordering, many of the plants are not even planted or growing yet. Occasionally availability issues can occur that are beyond our control. We will do our best to keep you advised if any such situation should occur in a timely manner.
How long will it take for my order to get to me?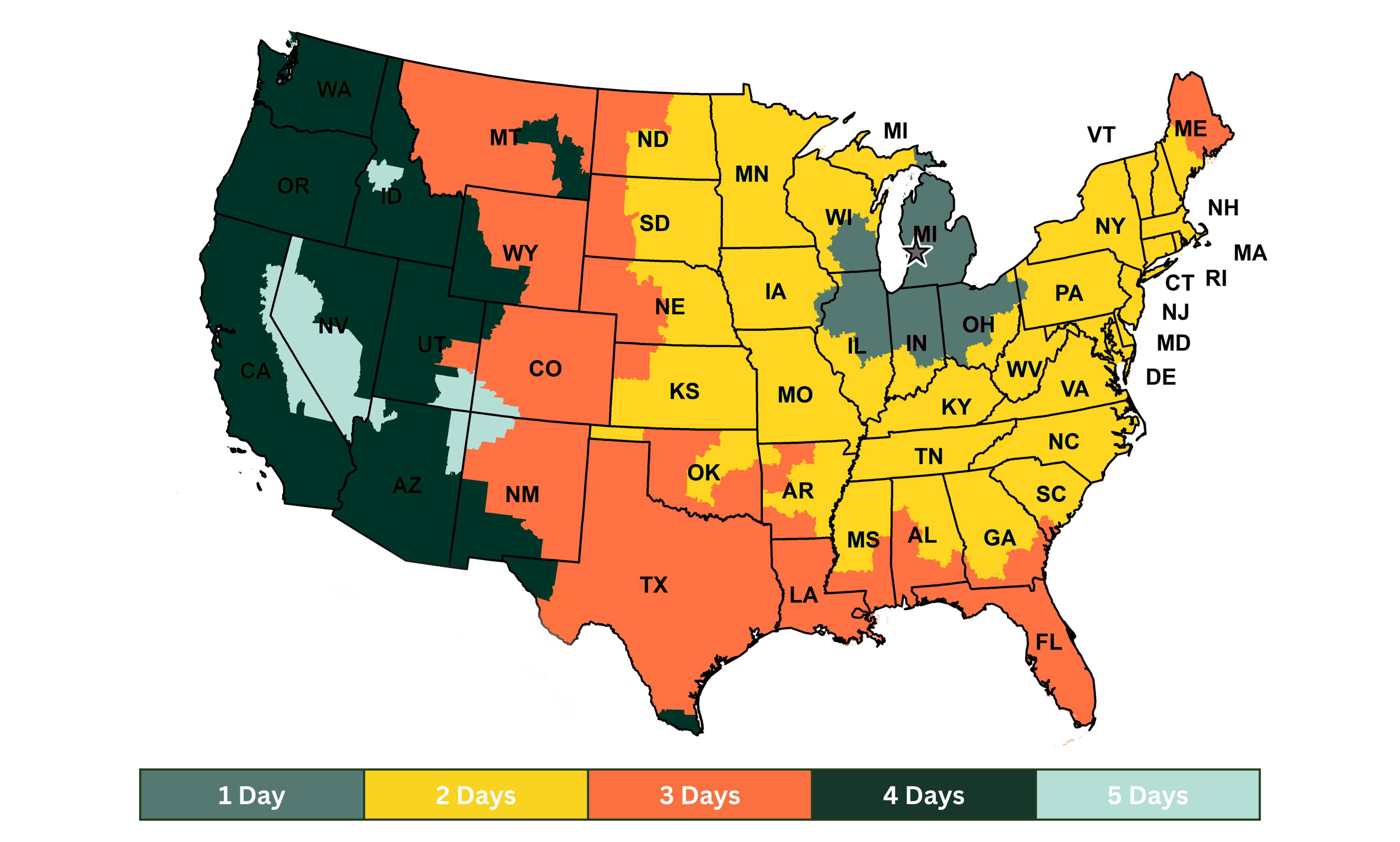 This chart shows the delivery time once the order has shipped. It does not include the day of shipment or the processing time.
What is your return policy?
Due to the nature of our products, we do not accept returns on live plant material. For hard goods, contact support@romencegardens.com for a return authorization number. No returns will be accepted without prior authorization.
Call Us: (888) 507-5268
Email Us: support@romencegardens.com